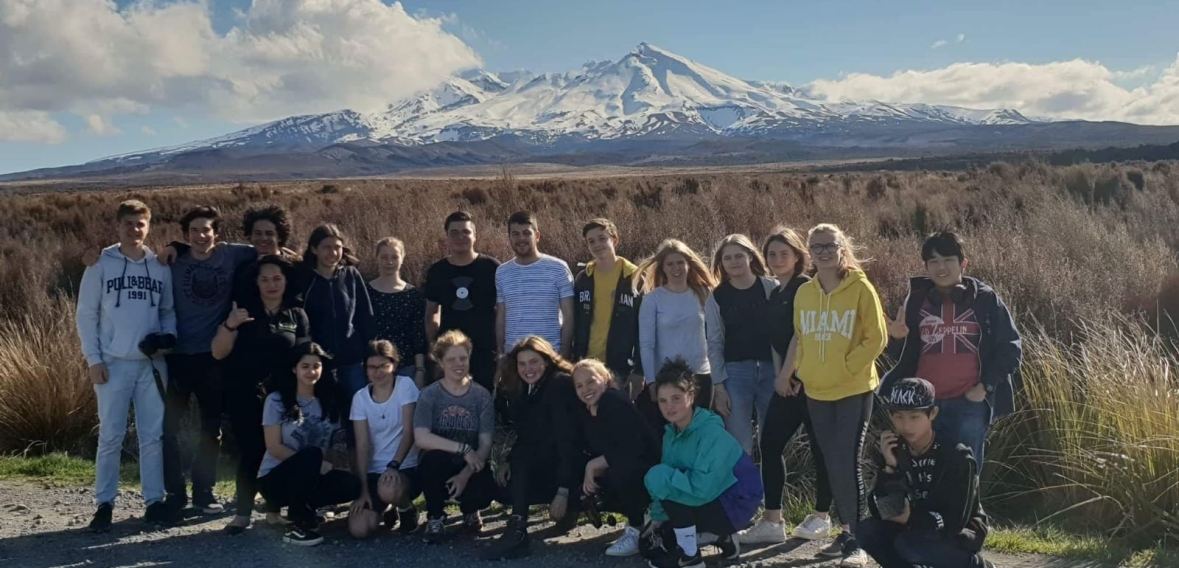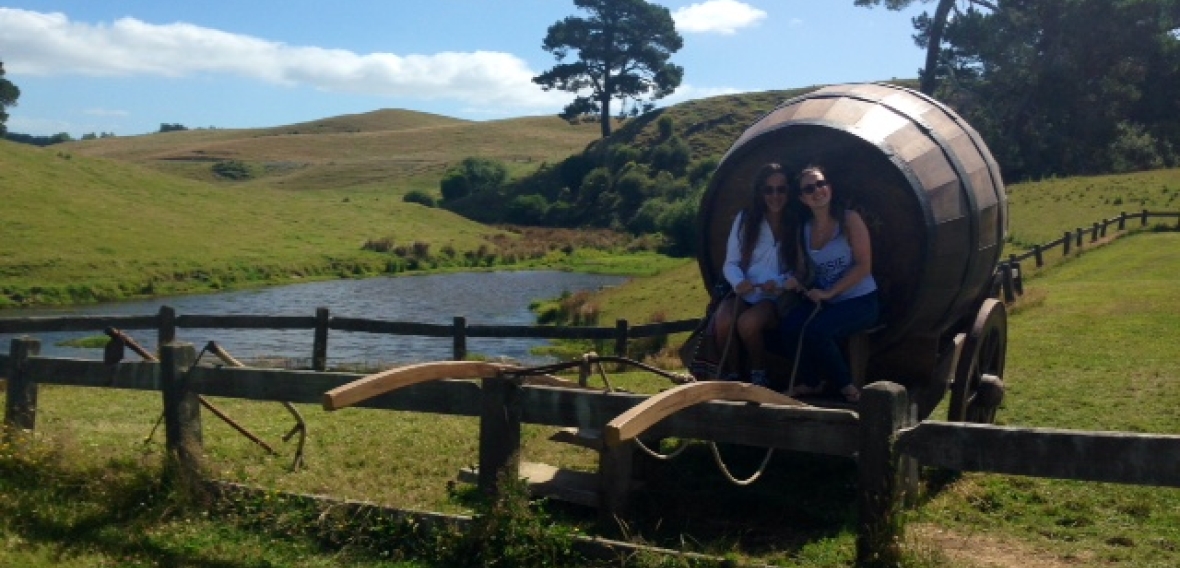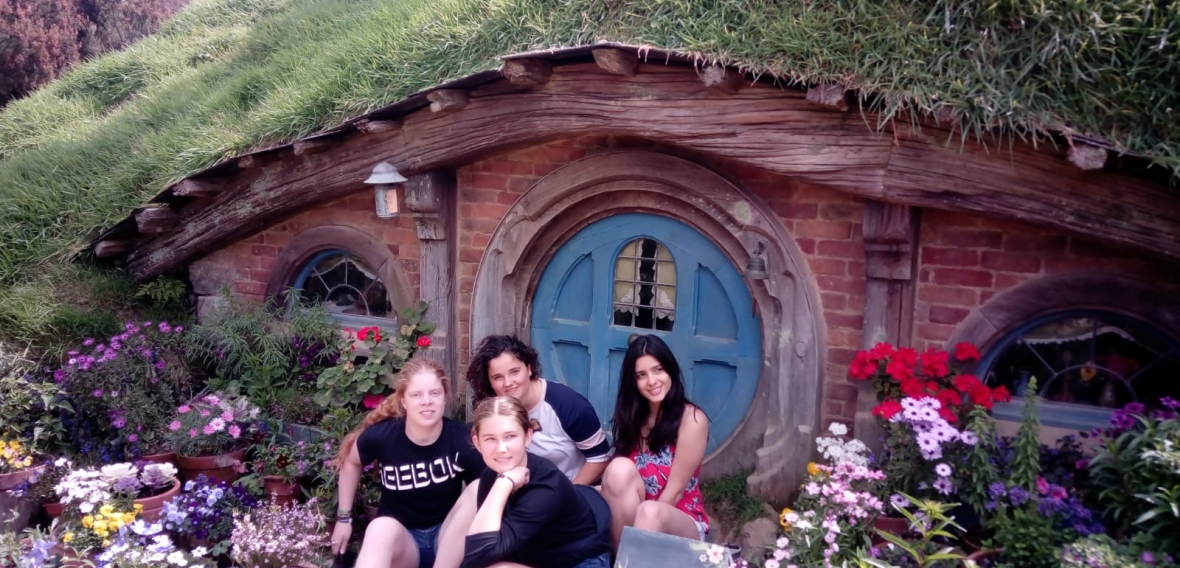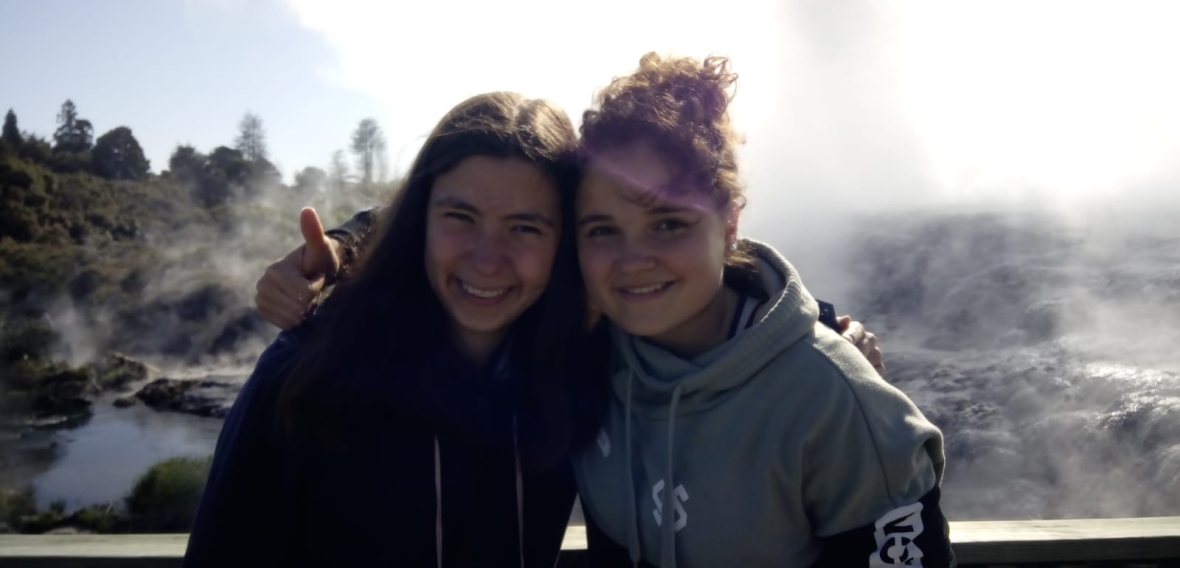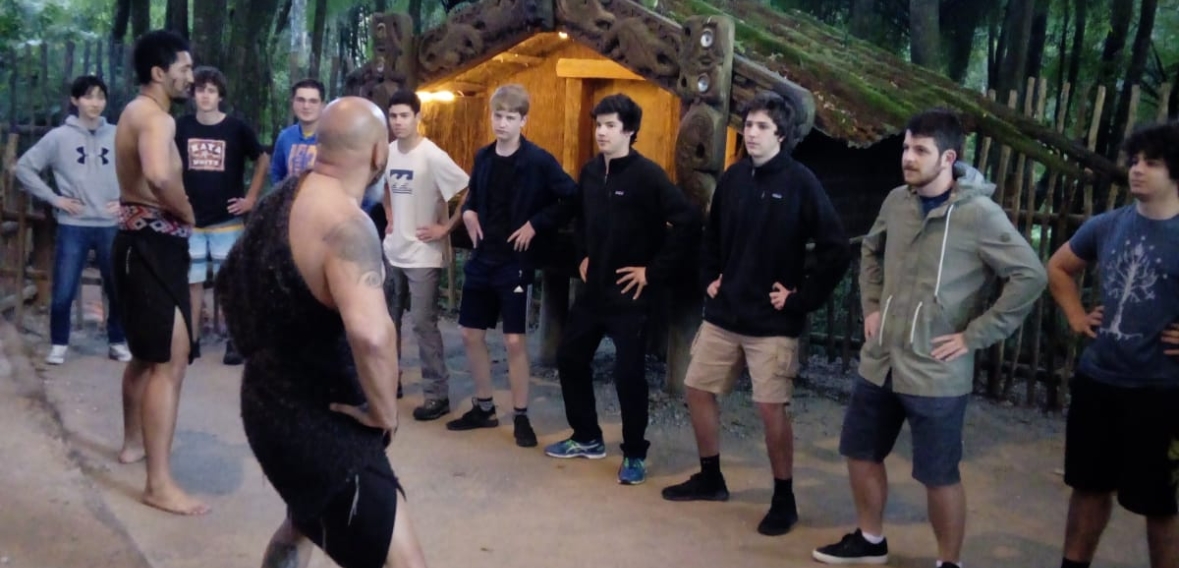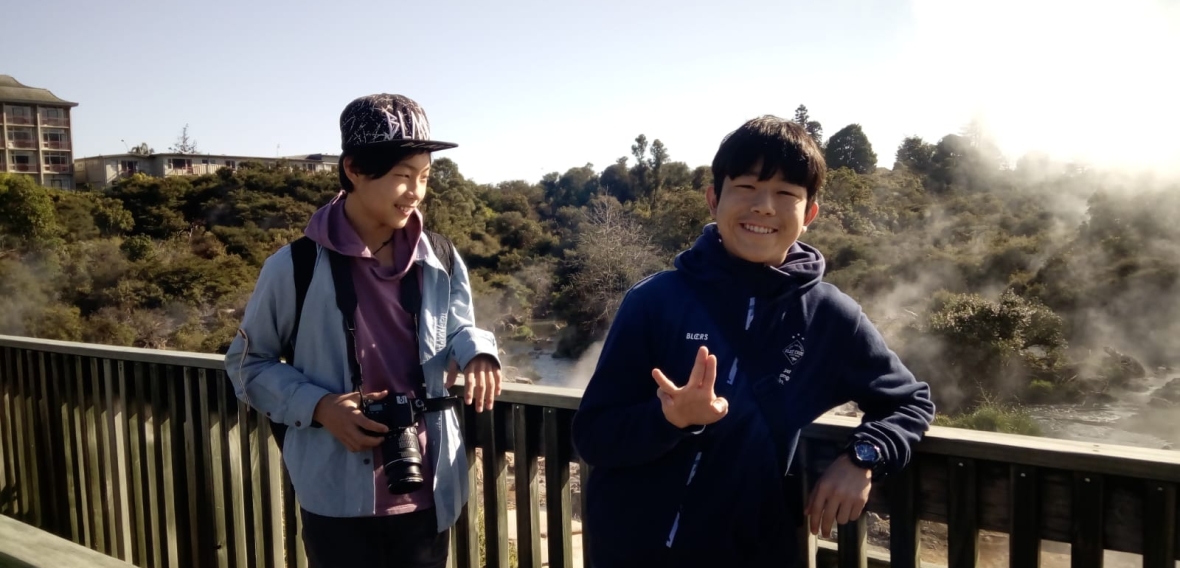 2020 April North Island Discovery
Discover the secrets of the North Island as we visit Middle-Earth in Hobbiton, enter the world of Maori Culture, become a surf pro and much more. Click here for the tour itinerary.
Let us manage the details

All inclusive tour price

Expert tour manager

5 star Transport
Your Trip Includes:
Wellington, Taupo, Rotorua, Raglan, Auckland, Paihia
What you'll get:
Visit a Maori Village and enjoy a cultural experience
Traditional Maori Hangi meal
Professional group photo
Visit Hobbiton Movie Set
Gondola and luge rides
Visit Auckland's Sky Tower
Surf Lesson
Hot Pools
Bay of Islands excursion to Cape Reinga
Sand Boarding
Highlights:
Airport transfer - we pick you up and drop you off at the airport
5 star bus - travel in luxury air conditioned coach with seat belts, TV and ipod/pad/phone connections
Awesome accommodation in holiday parks and youth hostels
20 healthy and tasty meals - 10 breakfast, 8 dinners and 2 lunches + tour snacks!
Ten nights multi share accommodation in Holiday Parks and Youth Hostels
An experienced NZET tour manager + driver team
Two additional tour assistants
Special NZET group games + spot prizes
DAY 1 WELLINGTON
Kia ora and welcome to 'Te Ika-a-Maui' New Zealand's North Island! Our tour kicks off with a fun evening as we meet our fellow travelling crew and friendly Tour Manager and Tour Assistants.
We have our first home cooked meal tonight then we will discuss the exciting days ahead.
Includes: First group dinner | Discuss the exciting days ahead | Meet your crew
---
DAY 2 WELLINGTON - TAUPO
This morning we visit Te Papa, New Zealand's bold and innovative national museum. As well as the Art Gallery, you can learn how to DJ, see a colossal Squid, visit the Marae and learn about the Treaty of Waitangi.
After Te Papa,we rejoin the coach and take the road to the top of Mount Victoria for fantastic views over the city. From here our tour takes us through the centre of the city passing the Beehive and Parliament buildings before taking the road north.
Our route takes us along the Kapiti coast before travelling inland to the Tongariro National Park. We have fantastic views of Mount Ruapehu, Tongariro and Ngauruhoe better known as Mount Doom and Mordor from Lord of the Rings.
Once we arrive in Taupo, we visit the Bungy Jump site over the beautiful Waikato River where you have an opportunity to try a bungy or the swing (for this who have their parents permission of course).
After everyone has finished their adrenaline pumping activities, we check in to our accommodation and have a sumptuous dinner. It's then time to relax in Taupo's thermal hot pools.
Includes: Breakfast | Te Papa National Museum| Thermal Hot Pools | Dinner
---
DAY 3 TAUPO - ROTORUA
It's an early start this morning for those wishing to skydive, for everyone else a little sleep in before we have some free time in town.
Following this we are off to Rotorua - known as the place that captures the best of New Zealand in one spot. Famously known as an 'active volcanic zone', it is just as famous for its Maori history and culture and you get to experience it all.
On our way to Rotorua, we stop off to visit the spectacular Huka Falls, situated on the beautiful Waikato River and then stop to see the boiling mud pools.
This afternoon we visit the Government Gardens for our professional group photo then it's time to hit the Skyline Gondola and Luge! We get three rides down the luge so throw on your helmet and choose your course from beginner to advanced.
Includes: Breakfast | Huka Falls | Professional group photo | Gondola and luge | Dinner
---
DAY 4 ROTORUA
Our first stop of the day is Te Puia; the premier Maori cultural centre in New Zealand and a place of gushing waters, steaming vents, boiling mud pools and spectacular geysers.
After Te Puia, we have free time so you might like to try White Water Rafting, Ogo, Swoop Swing, a White Island tour or just soak in the hot mineral waters of the Polynesian Spa.
Tonight we are in for a very special night as we enter the world of Tamaki. We take the Tamaki Waka to Tamaki village where we discover Maori art forms, ancient rituals and traditions, experience thrilling song and dance and then eat a delicious and authentic Maori Hangi.
Includes: Breakfast |Te Puia | Maori Village| Traditional Maori Hangi Dinner
---
DAY 5 ROTORUA - RAGLAN
We farewell Rotorua and head off to discover the real Middle-Earth. Located on the most picturesque private farmland near Matamata, we visit the Hobbiton Movie Set from The Lord of the Rings and The Hobbit film trilogy.
We have a fascinating guided tour where we see the hobbit holes, the famous Party Tree and Bag End; home to Bilbo and Frodo. From here we head to the West Coast and the quirky beach town of Raglan. Raglan is best known for it's surf breaks and that is what we discover tomorrow!
Tonight we relax in our wilderness lodge and enjoy a delicious home-made dinner.
Includes: Breakfast | Hobbiton Movie Set | Dinner
---
DAY 6 RAGLAN
Time to hit the surf! After a hearty breakfast, it's straight to the beach for our surf lesson. First up is an important lesson about the fundamentals of surfing, ocean awareness, etiquette, and water safety, then it's time to jump on our boards. We have plenty of time to enjoy and ride the waves and later have free time to enjoy an optional bike ride or browse this small beachside town.

After another hearty meal tonight, we have a group competition playing Table Tennis, Pool and Football!
Includes: Breakfast | Surf lesson | Group sports | Dinner
---
DAY 7 RAGLAN - PAIHIA
We say goodbye to Raglan and travel north for a two night stay in Paihia.
We visit the Ah Reed Kauri Park where we take a canopy walk and see two 500 year old Kauri trees. We then stop at the famous Kawa Kawa toilets before visiting Ruapekapeka Pa site where the last major battle between British Forces and local Maori was fought.

We arrive in Paihia and after checking into our lodge we have time for a walk along the beach before enjoying dinner at one of the cafes and restaurants on offer,


Includes: Breakfast | Kawakawa | Beach walk |
---
DAY 8 PAIHIA
Today we travel to Cape Reinga, right at the top of the North Island where the Pacific Ocean and the Tasman Sea meet. We drive along the famous 90 Mile Beach (actually only 61 miles!) and learn about the Maori Myths and legends of the area. Our off-road journey continues up Te Paki Stream, stopping at the massive sand dunes where you can experience the thrills and spills of sand surfing.
Lunch today is traditional Kiwi Fish and Chips
Another delicious home cooked dinner is on the menu tonight and then enjoy some free time before it's lights out.

Includes: Breakfast | Cape Reinga day trip | Sand Boarding | Lunch | Dinner
---
DAY 9 PAIHIA - AUCKLAND
This morning is free for you to enjoy some of the many optional activities avaiable (not included in the price). Try kayaking to the beautiful Haruru Falls or take the local ferry to Russell on the other side of the inlet.
Alternatively enjoy a free day at the beach or visit the famous Treaty of Waitangi grounds, a place of major significance to NZ history. Gain an insight to some of New Zealand's most outstanding and deeply symbolic carvings that have been gifted to the Treaty Grounds.
This afternoon we make our way to Auckland - The City of Sails!
Includes: Breakfast | Free day
---
DAY 10 AUCKLAND
Today we get to explore New Zealand's largest city; If you dare, try bungy jumping off the harbour bridge...
This morning we visit the Skytower for fantastic views of the city and some of you may wish to experience the 192m Sky Jump from the top!
This afternoon, you have free time to explore the city, catch up on any last minute shopping, visit the famous Auckland Museum or take a walk to the Viaduct and check out the yachts moored alongside.
Tonight we enjoy our last night together with a fun farewell and awards presentation.
Includes: Breakfast | Skytower | Shopping| Final night dinner & party
---
DAY 11 AUCKLAND - HOME
This morning we drop you off at Auckland Airport at 10.00am with an amazing bunch of new friends and 'ferntastic' memories.
Includes: Breakfast | Airport transfer | New memories | New friends
Things to Know
We are happy to book your flights to and from tour and will always try to find the best priced flights available.
The cost of these flights are NOT included in the tour price and are an additional cost along with the $20.00 booking fee.
*Please note, at our discretion, the itinerary is subject to change in the case of unforeseen circumstances.